MKO have recently secured planning permission for a number of hotel developments in Galway City.
Working in collaboration with a multi-disciplinary design team, MKO secured full planning permission for the development of an additional 89 rooms at Jurys Inn, Quay Street, Galway. The development consisted of 2 no. additional floors, the creation of a new wing facing onto the River Corrib and revisions to the existing facades.
MKO prepared and managed the planning application, leading on pre-planning discussions, drafting and compiling the application documentation and advising on the response strategy to the Councils request for Further Information.
Following minor revisions to the proposal at Further Information Stage, Galway City Council granted permission for the development. An Bord Pleanála subsequently granted permission for the development following a number of third party appeals.
MKO also prepared and lodged a Response to Grounds of Appeal which demonstrated that the proposed development in no way would constitute an over-development of the site and would not impact negatively on the visual integrity of the adjoining Protected Structure and Galway City Core Architectural Conservation Area.
The permitted development will provide much needed additional tourist accommodation to the city centre of Galway. The development seeks to consolidate and densify the existing built environment in line with the 'Urban Development and Building Heights, Guidelines for Planning Authorities.'
Figure 1: Image by BKD Architects
MKO have also recently acted as planning consultants for the Hardiman Hotel, helping secure permission from An Bord Pleanála for the creation of 19 no. additional rooms within the existing footprint of the Hotel at 14-15 Eyre Square, Galway.
MKO prepared and managed the planning application for a proposed change of use at 5th floor from an existing leisure centre to 13 no. bedrooms and for the construction of an additional 6th floor containing 6 no. bedrooms within the hotel's existing modern extension, along with minor alteration at ground floor and fourth floor level within the historic fabric of the original building.
The hotel, which was formerly known as the Meyrick Hotel, is a protected structure and has been designated by the National Inventory of Architectural Heritage (NIAH) as being of 'National' importance.
Galway City Council refused the development for one reason noting that ''The proposed development, if granted, would result in the repurposing and extension of the life of a modern extension, which is entirety unsympathetic to the original building''
However, MKO successfully lodged an appeal to An Bord Pleanála against the decision to refuse planning permission by Galway City Council. The appeal contended that the existing modern extension is a unique modern building of considerable architectural merit in its own right and representative of a building of its time. Additional elevation treatments to repair and refresh the façade of the modern extension were proposed as part of the appeal.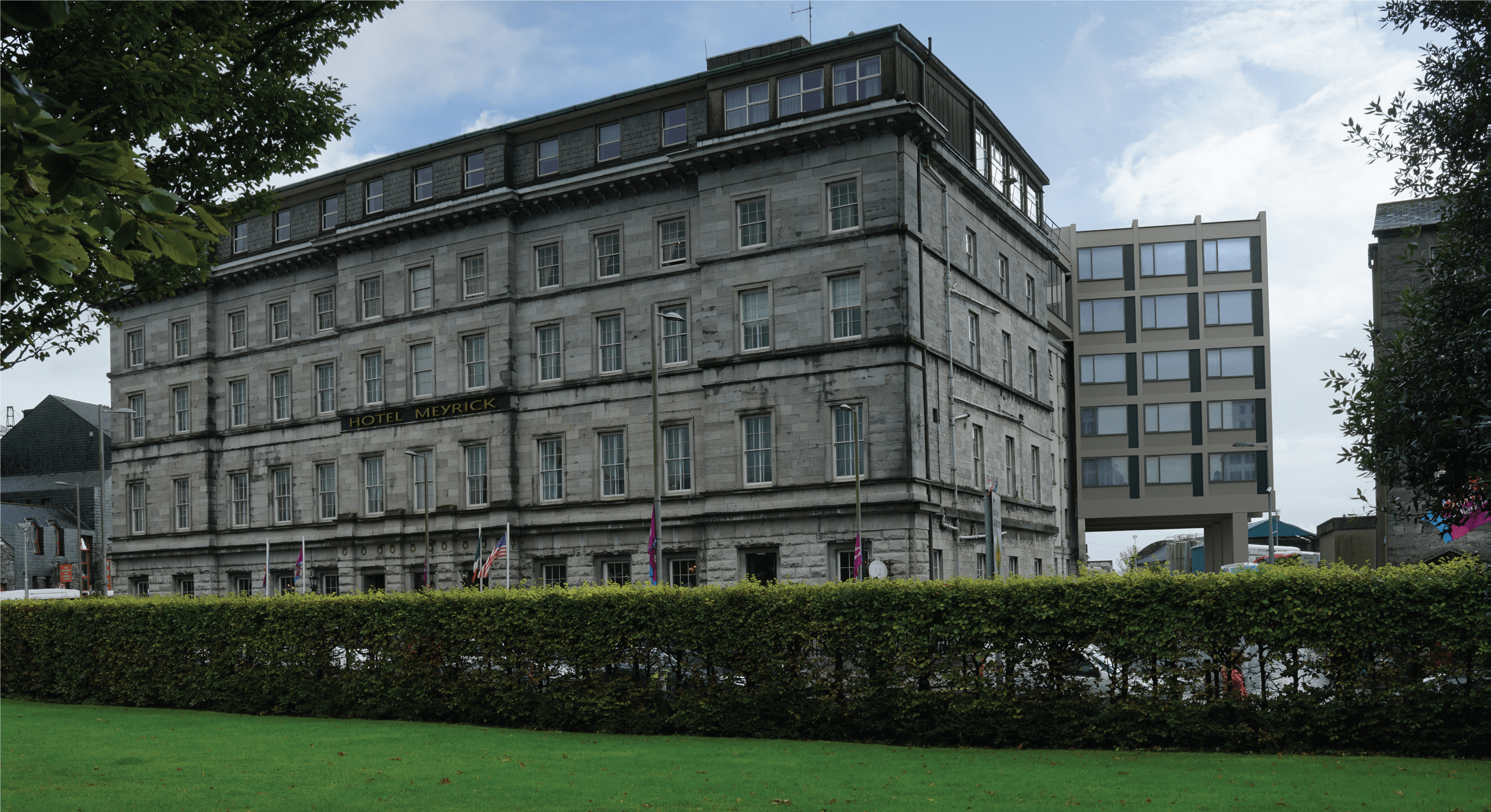 Figure 2: Image by Proviz
For further information on our planning consultancy services, please contact our office on 091 735 611.